What is electric order picker?
Electric Order Picker is a kind of warehouse forklift. The operator on the operating table can move up and down together with the loading and unloading device and pick the forklifts that are stored in the shelves on both sides.
Use range of electric order picker forklift:
Electric order picker, its operator can move up and down along with the loading and unloading device, and can act on both sides, so it is suitable for high-rise shelf warehouses.
Its lifting height is 4 to 6 meters, with a maximum of 13 meters, which can greatly increase its space activity range. However, for safety reasons, its movement speed is not very fast.
Application scenarios:
All kinds of warehouses, libraries, and supermarket shelves for light goods storage and retrieval or high-altitude maintenance operations.
Electric Order Picker WHA1030
Standard
1.1
Manufacturer
WINGS
1.2
Model
WHA1030
1.3
Power Type
Battery
1.4
Operation Type
Stand on
1.5
Rated Capacity
Q(kg)
1000
1.6
Load Center
C(mm)
500
1.8
Front Overhand
x(mm)
148
1.9
Wheelbase
y(mm)
1410
Weight
2.1
Service Weight(incl.battery)
kg
2490
2.2
Weight distribution when loaded,drive side/load side
kg
940/2550
2.3
Weight distribution when unloaded,drive side/load side
kg
1410/1080
Wheel
3.1
Wheel Types
PU
3.2
Load Wheel
mm
φ150×90
3.3
Drive wheel
mm
φ254×100
3.4
Balance wheel
mm
/
3.5
Number of wheels,,front/rear(x=drive wheel)
4/1X
3.6
Wheel tread,drive side
b10(mm)
/
3.7
Wheel tread,load side
b11(mm)
1008
Size
4.2
Mast closed height
h1(mm)
2300
4.4
Lift height
h3(mm)
2760
Max lift height of fork
h25(mm)
3530
4.5
Mast extended height
h4(mm)
5010
4.7
Overhead guard height
h6(mm)
2250
4.8
Platform min.ground clearance
h7(mm)
240
4.11
Auxiliary lift height
h9(mm)
700
4.14
Platform max.ground clearance
h12(mm)
3000
4.14.1
Picking height(h12+1600mm)
h28(mm)
4600
4.15
Fork face min.ground clearance
h13(mm)
70
4.19
Overall length
l1(mm)
2825
4.20
Length to forkface
l2(mm)
1755
4.21
Overall width
b1/b2(mm)
1150
4.22
Fork size
l/e/s(mm)
1070/100/40
4.25
Fork outside width
b5(mm)
700
4.31
Mast ground clearance
m1(mm)
50
4.32
Body ground clearance
m2(mm)
50
4.33
Aisle width for pallet 1000*1200
Ast(mm)
3120
4.34
Aisle width for pallet 800*1200
Ast(mm)
3230
4.35
Turning radius
Wa(mm)
1625
Function
5.1
Driving speed(load/unload)
km/h
6/6.3
5.2
Lifting speed(load/unload)
mm/s
115/140
5.3
Lowering speed(load/unload)
mm/s
135/140
5.9
Acceleration time(0-10m)load/unload
s
5.10
Brake type
Electromagnetic type
Drive
6.1
Driving motor(S2-60min)
kw
2.5
6.2
Lifting motor(S3-15%)
kw
3
6.4
Battery voltage/capacity
V/Ah
24/400
6.5
Battery weight
kg
350
8.1
Driving motor type
AC
8.4
Driver ear noise(按EN12053)
dB(A)
70
8.6
Steering system
EPS
Duplex Mast
9.1
Model
WHA
10-30
9.2
Lift height
h3
2760
9.3
Total lift height
h24(h3+h9)
3460
9.4
Fork lift height
h25(h3+h9+h13)
3530
9.5
Auxiliary lift height
h9
700
9.6
Platform lift height
h12(h3+h7)
3000
9.7
Picking height
h28(h12+1600)
4600
9.8
Mast closed height
h1
2300
9.9
Max mast extended height
h4
5010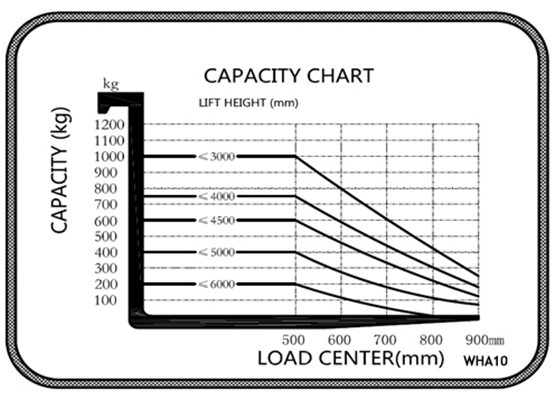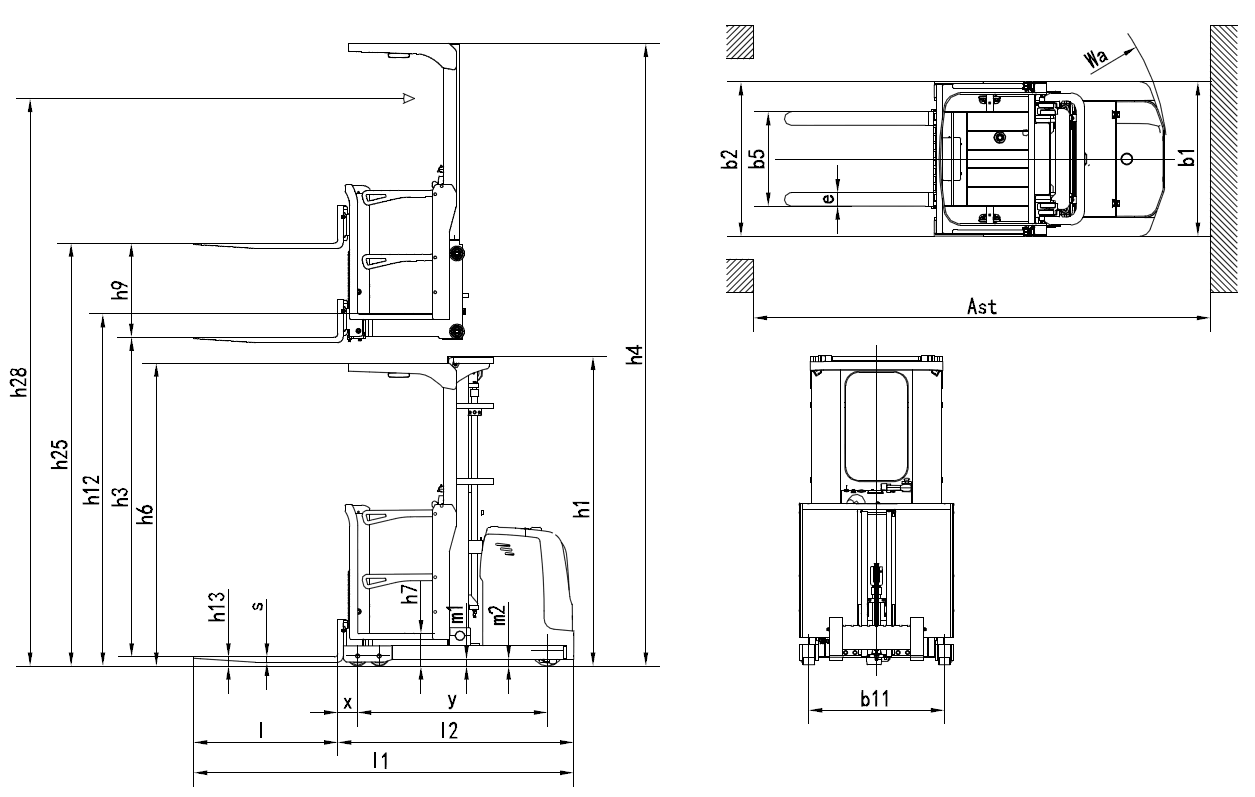 Features:
Electric order picker is an advanced pick-type Electric Forklift, which has a significant effect on improving work efficiency while ensuring safety with a longer wheelbase.
Small turning radius, suitable for narrow passages, and can be used for tally high-altitude platforms.
The cab is designed according to the most advanced ergonomics, with good operating comfort and high picking efficiency. The suspended driving platform can ensure smooth and efficient picking.
The mast pressure reactor can ensure smooth lifting and lowering at any time, without movement.
Efficient energy-saving design and energy regeneration system can make the battery perform better after each charge.
Three sets of independent braking systems can balance and effectively brake under any working conditions. The two-hand control mode and side door protection can ensure the personal safety of the driver.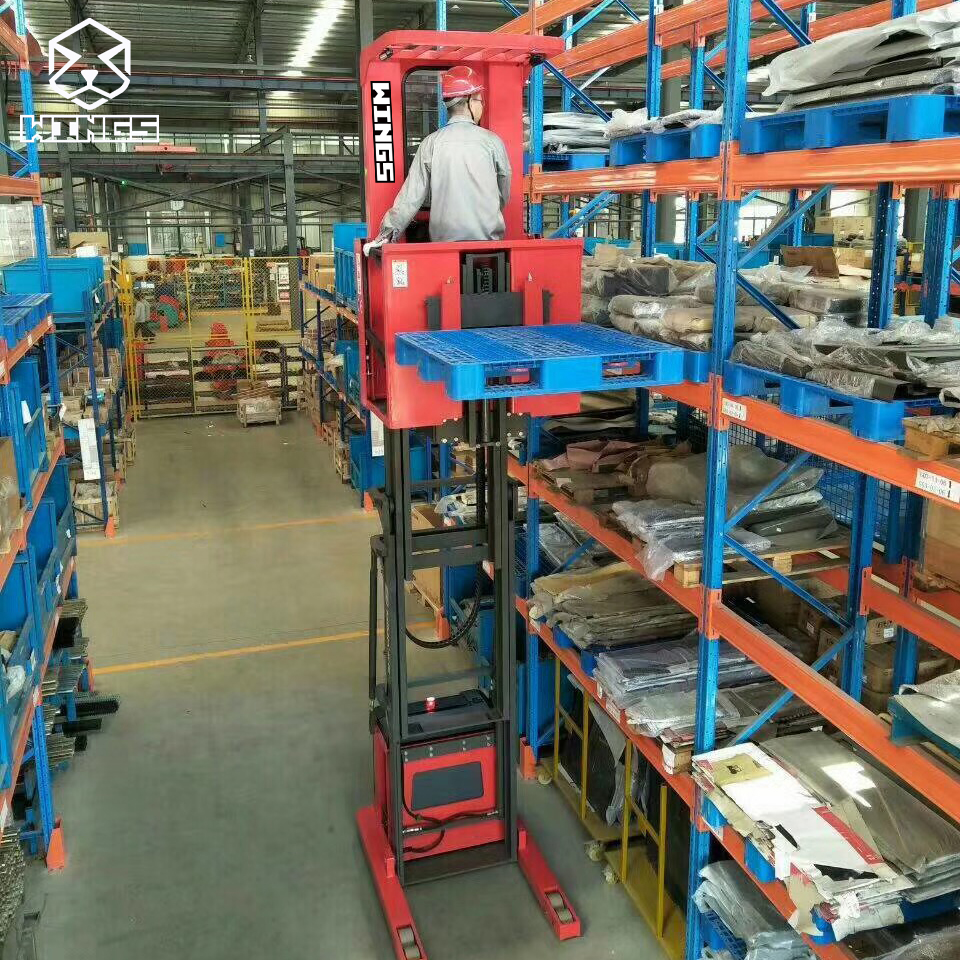 WINGS offers a wide range of Warehouse Equipment , Electric Stacker, Electric Pallet Truck, Reach Truck, Order Picker Truck, Hand Pallet Stacker, Drum Handler and Narrow Aisle Forklift. With a highly customized mast options, Wings Machinery are ready to give you the reliability and performance you need.

Looking for ideal Order Picker Uline Manufacturer & supplier ? We have a wide selection at great prices to help you get creative. All the Electric Order Picker & Work Platforms are quality guaranteed. We are China Origin Factory of Used Electric Order Picker. If you have any question, please feel free to contact us.